Rosie Rally Loop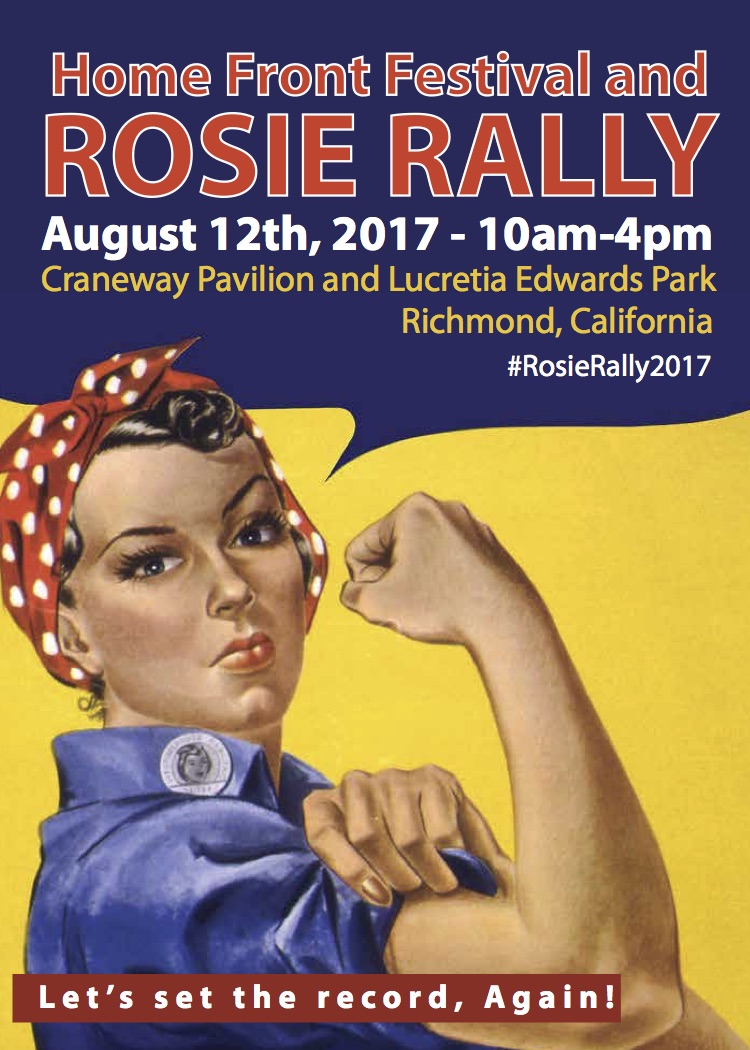 Duration: 90 Minutes (approx.)
Take Tideline to the Home Front Festival and Rosie Rally on August 12, 2017
Home Front Festival and ROSIE RALLY! Bring your friends and family and be a part of history!
AUGUST 12TH, 2017 10 AM - 4 PM
Tideline schedule is as follows:
Departing the Berkeley Marina at 9:00am
Departing SF, Pier 1.5 at 9:30am
Arriving Marina Bay Yacht Harbor at 10:10am
Departing Marina Bay Yacht Harbor at 3:00pm
Arriving SF, Pier 1.5 at 3:40
Arriving Berkeley Marina at 4:00pm
Cash Bar onboard- People dressed as Rosie will get a free beverage;)
Let's set the Guinness World Record for Most! People Dressed as Rosie the Riveter, Again! Enjoy food and 40's music.

10:00 am - Rosie Rally check-in begins at the Craneway Pavilion.

11:00 am - Arrive before 11am to be counted in the Guinness
Record setting effort.

11:45 am - Walking parade to the Home Front Festival

Noon-4pm – Food and Live Entertainment at Lucretia Edwards park.

Rally - Craneway Pavillion, Ford Assembly Plant

1414 Harbour Way South, Richmond, CA 94804

(next door to the National Park Visitor Center)

Festival - Lucretia Edwards Park

Lucretia Way at end of Marina Way South, Richmond, CA 94804
RosietheRiveter.Org for more info